Below you will find a brief explanation of layer options and names you need to set in InDesign. (The InDesign function Lock/Unlock Layer is unrelevant for the printformer).
1. PFUserContent (Layer with editable elements)

Create a new layer in the Layers panel (Window > Layers): Submenu > New Layer... (or use the existing layer in the document) and name it »PFUserContent«. Make sure that you deactivate the setting "Print Layer" for this one, otherwise errors will occur in further editing. (You can easily open the layer options by double-clicking on the layer and deaktivate the checkbox).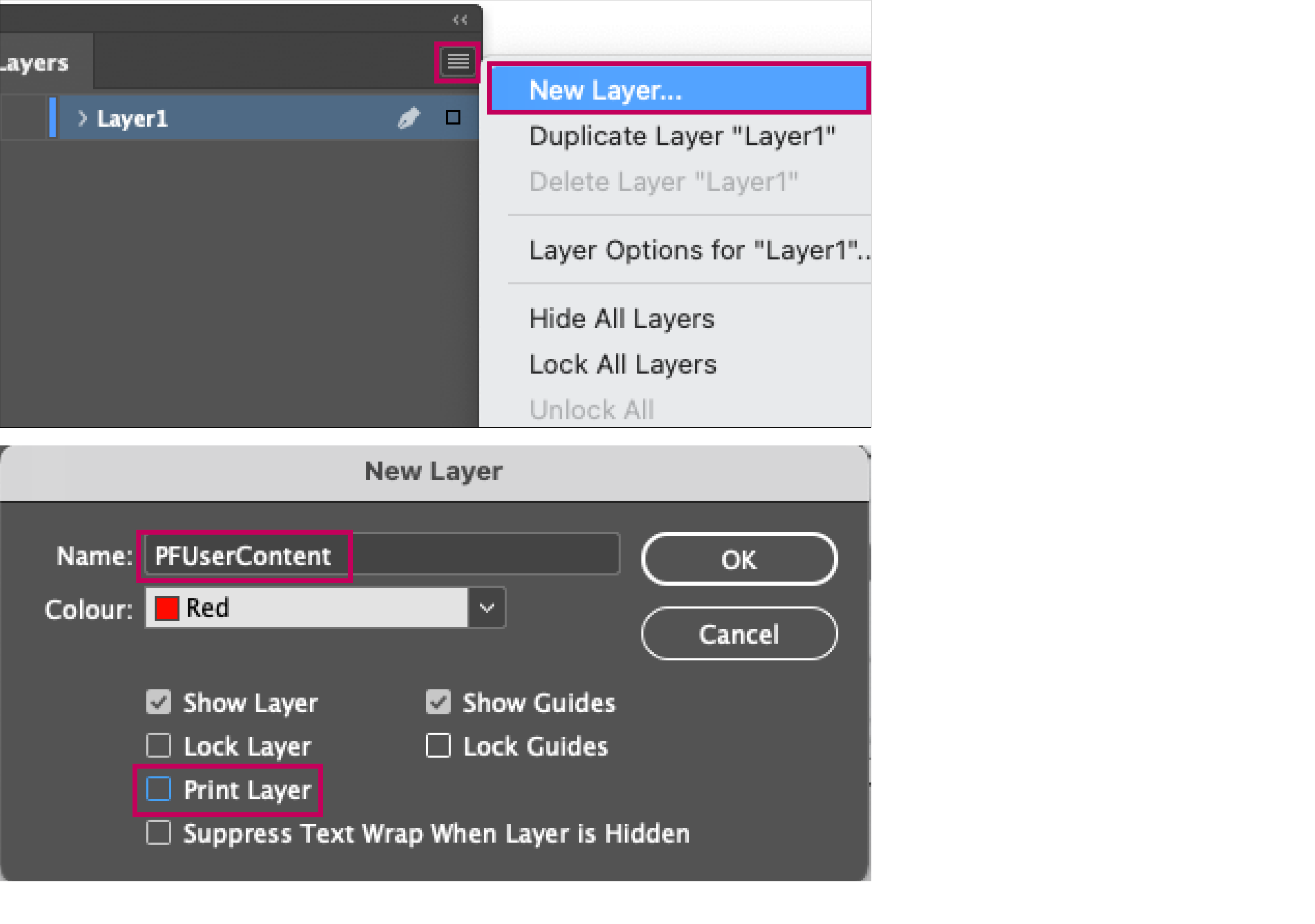 Make sure that all objects you want to be individualized in the Printformer are placed on this layer.
(All elements that are inside a layer in the template can be rearranged later in the printformer editor. All elements outside this layer retain their original position).

All elements contained must be tagged for editing later in printformer editor. If the template contains objects that are not allowed to be changed but are arranged above editable elements, these must also be tagged and provided with a block attribute (block-disable-interactions). A new layer can also be created for this purpose; the setting »Print Layer« must also be deactivated.
2. Background layer (printable but not editable)
If there are elements in the back of the layout that are to be printed but not edited, then create an additional background layer (named accordingly) and position it as the lowest layer. (Select it in the Layers panel with the mouse and simply move it downwards). The option »Print Layer« must be activated here, since the objects do not have to be tagged (they will be displayed later by the Background PDF in the editor and transferred to the print data).

3. PFNonPrint (visible but not printable)
If you want to display elements in the editor that should not be included in the print file, create a layer in the Indesign document and name it »PFNonPrint«. (To ensure the function of this level, it must be named exactly like this and must not contain any spaces).
All elements in this layer are visible in editor and the preview, but are not included in the print file output. Option »Print Layer« must be deactivated and the layer content must be tagged. The elements must not be placed on the master page (if used for several pages, the desired elements must be inserted on the PFNonPrint layer on each page).
If you want to use several layers that are not to be printed, you must make sure that the name of the layer always starts with »PFNonPrint«.